Proofing
A proof is a quality control tool that is used to communicate the overall concept of a project between a client and the printer. It is a great safety measure designed to catch potential problems or errors before a job goes to print.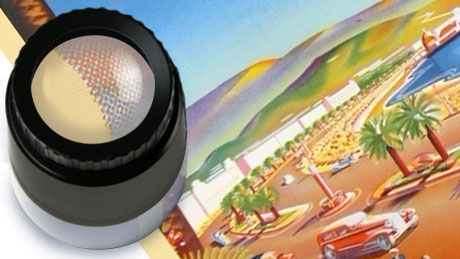 A loop, or magnifying lens is a proofer's best friend. It allows you to get a close view of dot gain, overprint and ink saturation on your prints.
Applications
There are a wide variety of proofing systems and different technologies to choose from. It is important to understand the different processes and the advantages and disadvantages of each.
Specifications
All proofs should include the following:
Color bars
Name, address, and contact person responsible for the job.
Date
File identification
Type of proof (inkjet, MatchPrint, etc.)
Purpose of proof (text only, color only, contract proof, etc.)
An area where approval or changes can be noted.
An area for the customer's signature to indicate approval or acceptance.
Ink Jet/Digital Proofs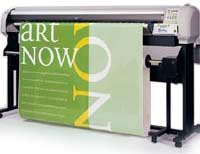 Inkjet proofs require high-quality coated or glossy paper for the production of photorealistic output. The paper itself is composed of two layers – the base layer is paper, and the second layer is a coating which accepts the ink.
Digital proofs are made directly from the computer without creating a set of films. Their quality has improved to a level that is acceptable for use as a final proof.
When using digital systems for proofing, the proofer needs to be color calibrated often to maintain color accuracy, and color bars should be used on every proof.
A digital proofing process involves printing each of the subtractive primary color components of the image (cyan, magenta, yellow), and black on one pass through the output device to create the full color digital proof as shown below.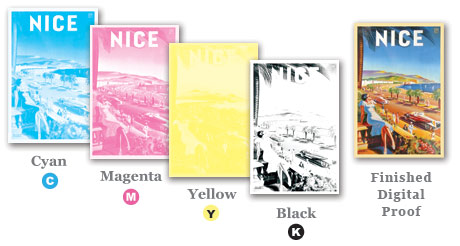 Soft Proof

A color proof on a computer monitor, which is based on the additive color process. PDF is the most common delivery format for soft proofing, although JPEGs and other bitmap formats can be used.
While this proofing method is ideal for making quick changes during prepress, it not accurate enough to be used as a final proof. This is mainly due to the differences in color gamut between the additive and subtractive color processes.
We compare these processes further in our Color Chapter
Match Print (Halftone Proofs)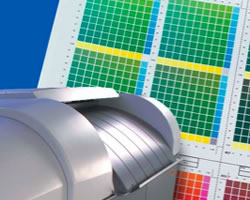 Halftone proofs render contract-quality proofs so precise that they match the press and can eliminate press checks. They are among the fastest and most accurate proofs available in the digital realm.
Spot colors can be proofed on actual substrates and spots for accurate prediction of the printing process. Image integrity is also enhanced by the control over density and dot gain.
NOTE: Halftone match prints can are expensive and are usually reserved for projects where color matching and image quality are critical, such as art gallery reproductions, books, magazines, presentations, etc.
Spot Color
The colors used on spot color proofs are also known as "matched" colors, special colors, or by one of the brand names "Pantone" or "PMS" colors. Spot colors are printed from a single ink on a separate printing unit of the press.
When you choose the spot color on the monitor, remember that it is simulated in RGB, and not as the spot color or CMYK. Be sure to tear off a chip from the guide and include it with the job.
NOTE: It is also important to realize that the color guides fade over time and the paper may change colors so check the date of your guide and replace it periodically.
Remember that if you are trying to match a spot color with process colors, very few colors will match. Many spot colors are outside of the color gamut of process inks. The paper stock and use of varnishes or coatings can also change the appearance of the color.
Press Proofs
Press proofs are the most accurate proofing method available, but they can be costly. A press proof involves using a press to generate a printed image before the actual press run. It is used mainly to simulate printing processes using the actual plates, inks, and paper.
Note that the price of the job may include an additional press set-up charge because of the time involved in producing the press proof and then to set-up the press again when it is time to produce the actual job.
Photomechanical (Analog) Proofs
An analog proof requires that film negatives or positives be made in order to produce the color proof. Analog proofs can be categorized as either an "analog position proof" or an "analog contract proof".
An analog position proof provides an overall concept of the color scheme for the project, as well as the design format. Because the colors that are used to make the proof do not coincide with the colors utilized with the printing device, it is never used as a guide to match the color with the final printed piece.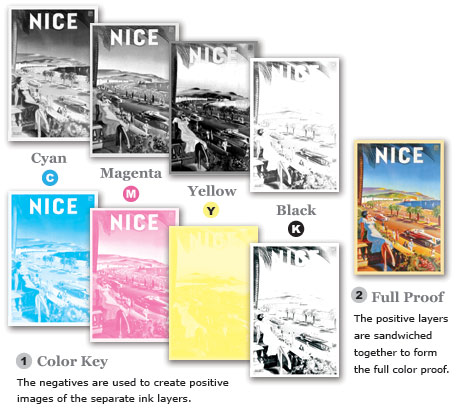 Composite Overlay Proof
One of the trade names for a composite overlay proof is Color Keyâ"¢ (Kodak). Each layer is a separate color overlaying each other. The layers are taped down to any stock to be registered with the other layers and are usually put into the order in which they will be printed at the press.

The composite overlay proof can be useful for checking color breaks, trapping, text, and layout, but it is not suitable for color matching at the press. The illustration above shows how four layers, representing the process colors, are taped down so that the individual layers can be registered.
Composite Integral Proof (Precoated Subtractive)
An example of a precoated subtractive proof is MatchPrintâ"¢ (Kodak). A negative for each color is placed on a laminated color sheet, exposed to ultraviolet light, and then processed. Consistent densities, dot gain, and color are the main advantages of this type of proof.
Blue Line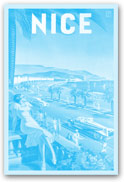 Sometimes called a Dylux, it is a one-color proof made from all four separation films. It is used to check the imposition, text, layout, and traps, but it is not used for checking color.
Most systems use a vacuum frame to hold the film or flat in contact with the light-sensitive coated sheet. An ultraviolet light source then exposes the emulsion to create the image. There is no processing involved. It can be folded, trimmed and stitched to approximate the finished job. The proof is bluish in color, and the image fades with time.
Scatter Proof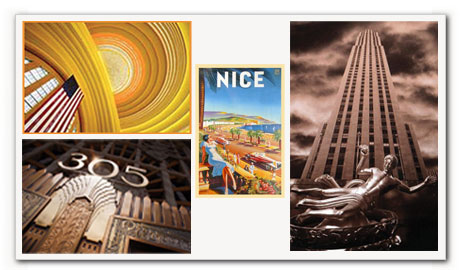 A proof of an individual photo or group of photos that have not been included in complete page layout. Several photos can be grouped and proofed at the same time to save on time and materials.
Viewing Booth
Regardless of what proofing method you choose, it is vitally important to view them under the correct lighting circumstances. Any printer worth his salt will have a viewing booth in order to color match with utmost precision.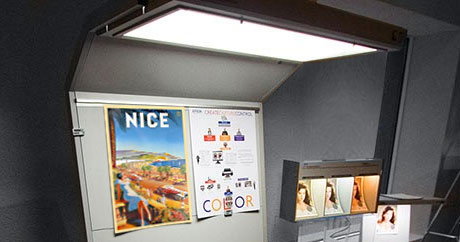 Contract or Final Proof
A final proof serves as legal contract between the producer and the customer, once the proof approval has been signed. It must be understood by the customer that it does not represent the exact appearance of the press sheet, since proofing paper is often brighter than what is used in the actual printing and it almost always has greater image density than a press can deliver.
The contract proof only simulates and predicts the appearance of the final printed piece. It is used in the pressroom as a guide to compare colors while the piece is running on the press. A contract proof can be produced as:
a photomechanical (analog) proof from the film
a digital proof from a digital file
a press sheet as a press proof
Once this proof has been signed off, we are ready to start gathering our printing materials