Green Printing
Green Printing refers to any printing process that utilizes environment-friendly materials and production methods in order to reduce or eliminate its ecological impact.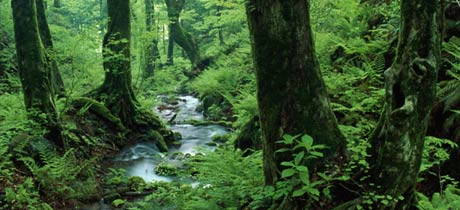 There are a variety of ways that printers can "go green", from the paper and ink they use, all the way to their power sources and disposal methods.
Recycled Paper
The Problem
Generally, the removal or destruction of significant areas of forest cover has resulted in a degraded environment with reduced biodiversity. In many countries, massive deforestation is ongoing and is shaping climate and geography.
Forests are also important stores of organic carbon, and can extract carbon dioxide and pollutants from the air, thus contributing to biosphere stability and reducing global warming.
The Solution

The best way to address this problem is to use eco-friendly substrates. This means printing with any paper that is 100 percent post-consumer waste (PCW), processed chlorine free (PCF), uncoated, Forest Stewardship Council (FSC) certified, or even treeless (hemp and kenaf are two options).
A full list of green paper sources can be found here
Vegetable Inks
The Problem
Originally inks were made from soot suspended in vegetable oil 50 centuries ago in ancient China. As technology progressed, petroleum-based inks became cheaper and more popular.
However, they also pose a host of hazards to the environment, containing a range of heavy metals (barium, copper, zinc) that leach into the soil and groundwater and emit VOCs (volatile organic compounds) into the air.
The Solution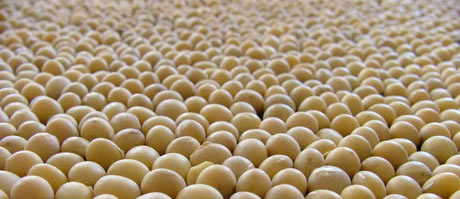 Vegetable-based printing ink is made with vegetable oil, such as soybean or corn oil, as a substitute for petroleum. These inks significantly reduce the amount of toxic metals and VOCs (volatile organic compounds) released into the air during printing.
Added Benefits
Vegetable Inks often result in brighter colors – due to their greater translucency. Using brighter colors enables the same amount of ink to produce more impressions (images) than the same amount of petroleum ink, which translates into a 5 percent to 50 percent increase in transfer efficiency.
Some printers also believe that vegetable inks are more forgiving, making it easier to run a high-quality job on older equipment. It is sometimes easier and faster to change from a dark-colored to a light-colored ink with soy than with petroleum-based inks.
Vegetable inks have broad applicability. They are used primarily in lithographic printing processes for newspapers, books and magazines. But they are also effective for packaging, business forms, and other commercial printing applications.
Digital Workflow
Film exposure and plate development are not necessary in a Computer to Plate process, which not only speeds up prepress but also eliminates the use of toxic chemicals often associated with traditional methods.
While digital still cannot compete with the quality/performance of offset, it is rapidly gaining ground as technological advances are being made.
Renewable Energy Sources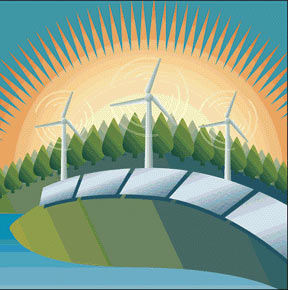 Traditional energy sources are not only becoming more scarce each day, they are also responsible for much of the pollution that is affecting our planet. Green-house gases, acid rain and toxic groundwater are but a few symptoms.
The good news is that there is clean, reusable energy all around us. From windmills to hydro power and solar panels, there are a myriad of ways to reduce consumption and pollution.
Recycling Materials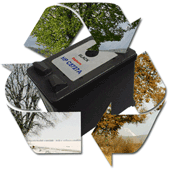 For those of you printing at home, you can also do your part. Instead of tossing your ink cartridges in the trash, why not recycle them and get paid?
Read more about this program here
Doing Your Part
Being green is not limited to business and industry. You can also play in important role in helping out the environment by recycling your waste.
If you are New York City resident you may, download this PDF
For those outside New york, check out www.energystar.gov
For those outside the US, please visit http://www.recycle.net/regions/