Planning and Strategy
A great print job begins long before ink touches paper. In order to ensure success one must have an overall understanding of the printing process and a clear vision of what they need.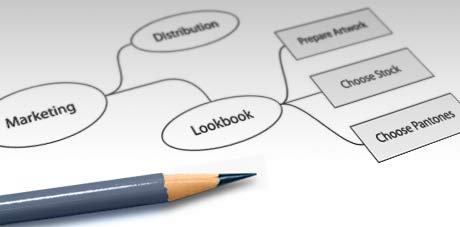 Choosing a Printer
Commercial printing is a highly competitive market and there are many printers to choose from, yet not all printers are created equal. If quality is of great concern for your project, then you should definitely research a few options and if possible collect some samples.
Once you have narrowed down your options, then its time to work out the math.
Writing a Proposal
Prices can vary greatly for any given project. In order to help a printer provide the most accurate possibly price quote, you should have a clear idea of what you need and write a detailed outline of your project.
The Project

The first question you should ask yourself is what exactly do you want printed. Is it a post card? Catalog? Sticker?
Once you've clarified your needs, you should ask yourself what these prints are for, as this will help you assign a name or title to your project and help organize your files.
Size

If you are producing an application with just one page, then you only need to provide the finished size (width + height). If the ink touches or "bleeds" off the page, then you must also provide a bleed area. You can read more about this in Design Tips
If you are dealing with a multipage project (magazine, book, etc) then you must also provide the flat size (width and height with pages open)
Quantity

This is probably the greatest factor involved in pricing so be sure to include it in your proposal. Most printers will be able to provide anywhere from one piece to millions of copies, and will even be happy to provide you with multiple price quotes for different quantities.
Colors & Inks
Specify if you need full color (Cyan, Magenta, Yellow, Black) or if you need any spot or Pantone colors as this will greatly affect the price.
Paper Stocks
Printers will make assumptions about the stock you want to use unless you specify otherwise. If you could care less about the paper, then this is not a huge priority, but if you are concerned with the weight, feel and texture of the finished piece, then you should ask to see some paper samples.
More info on this can be found in Materials & Stocks
Finishes

In the most general sense, a finish refers to the coating applied to a print. You can ask for matte, semi-gloss, gloss or uv coating (resistent to sun's UV rays). More info on these can be found in Coatings.
On a deeper level, finishing encompasses a wide variety of options, rangin from die-cuts to folds and bindery. We cover these extensively in our Types of Finishes section.
Proofs

In order to ensure that your prints match your expectations, it is often best practice to use proofs or "match prints" to give you an accurate preview of how your job will print. Let your printer know that you would like a proof with your job, if quality and accuracy are important factors.
Turnaround Time

Your printer needs to know when you will need the product in your hands in order to work out his printing schedule and reserve the appropriate shipping service.
If you need your project done yesterday, then be prepared to pay a rush fee, as you are making the printer work a lot harder for you to deliver on time.
Preparing Artwork
You've chosen a printer, submitted proposals and are ready to go into prepress. This is the most delicate stage of production as many things can, and will go wrong unless you are prepared.
Designing for Print

Print is a fickle medium with many margins for error. Not every graphic designer is trained or equipped to deliver print-ready designs. We heartily recommend any aspiring print designer to read our article on Design Tips
Submitting Files

This prepress stage is often the source of many errors and headaches in printing as a majority of files are not prepared correctly. You can find out how to troubleshoot problems before they happen and also how to submit your artwork in File Submission
Choose a Printing Process
More often than not, the printer will decide which process is most suitable to your application, but it would work to your favor to understand how they make this decision
Offset Lithography
This is the most common form of printing, thanks to its high speed, efficiency and low cost. It is best suited for large volumes (2,500+ pieces)
Learn more about offset lithography
Digital Printing
This is rapidly gaining popularity in the printing market. Since much of the printing magic happens in the digital realm, it eliminates much of the setup involved in traditional printing and saves a lot of time.
In terms of economy, it is best suited for smaller runs as it cannot match the speed/efficiency of offset.
Learn more about digital printing.
Delivery
Printers will usually determine the shipping method, but if your project is delicate or needs special treatment, then you should specify if you need shrinkwrap, bubblewrap, etc.
Be sure to provide a shipping address if it is different than your billing address
Conclusion
There is a lot more to the printing process than we could cover in this article. You are highly encouraged to explore this site and educate yourself on how printing works.
If you find yourself lost at some point, or just want to clarify any doubts in your mind, then feel free to contact us. We enjoy sharing our knowledge and would be glad to answer any questions.